We all love our families lasagna recipe, but we needed to spice things up a bit in the kitchen with a fettuccine lasagna bake. Sounds great, right? Well it is definitely easier to make for those crazy nights when everything gets super busy.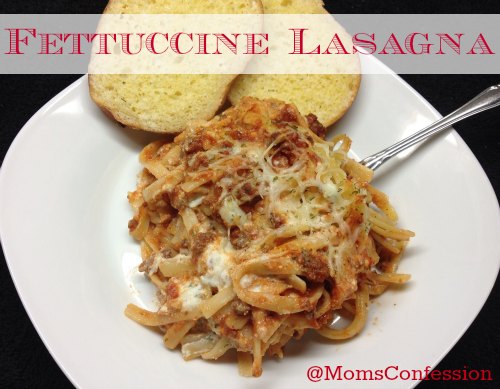 Fettuccine Lasagna Bake

Yield – * servings

Preparation Time – * minutes

Cooking Time – * minutes

Ingredients

1 box of fettuccine noodles
1 pound ground beef
½ an onion
12 ounce tomato paste
24 ounces water (fill tomato paste can twice)
1 package spaghetti sauce mix (powder)
salt & pepper to taste
garlic powder or minced garlic
[b]Cheese Mixture Ingredients:[/b]
24 ounce ricotta cheese
12 ounce mozzarella cheese
2 tablespoons parsley

Instructions

Combine ricotta cheese, mozzarella cheese and parsley mixed together in separate bowl
Preheat oven to 350 degrees
Cook fettuccine noodles as directed on box
Cook ground beef (salt & pepper to taste)
After ground beef is cooked, add in tomato paste, water, spaghetti sauce mix, simmer for 15-20 mins
After simmering, start layering w/ meat, noodles, ricotta cheese mix (repeat until cheese mix is gone)
End with meat sauce on top and noodles completely covered
Cook at 350 degrees for 30-45 minutes
Let fettuccine lasagna sit for 10-15 minutes before cutting
DIG IN!!
Enjoy!
You may also like: