If you enjoy lots of CD's and DVD's, you may have noticed how quickly they can become cluttered. Keeping these items in one place, away from damage, and in an easy to use format can be difficult. But the good news is, it is not impossible.  We have some amazing home organization tips for movies and music that you will love.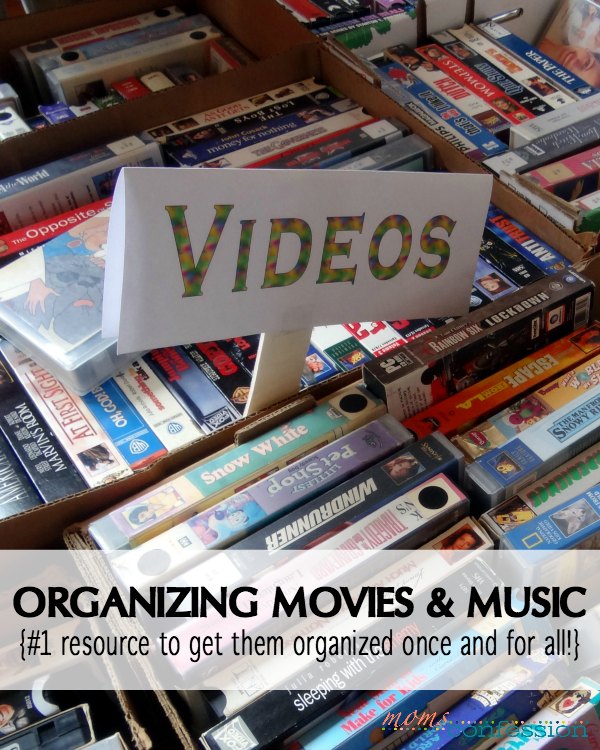 6 Home Organization Tips For  Movies and Music
This post contains affiliate links.
Home organization is more than just decluttering and cleaning up closets.  It is also about making things easier for you to use.  When it comes to movies and music, nobody wants to spend hours digging through a bin or box.  These tips are great for making sure yours stay organized.
Put everyone in their correct home
Take the time to be sure each item is in its correct case. This way, when you are in search of a particular piece you know when you open the case up, the item will be in there. Nothing is more frustrating than opening a case and seeing the wrong item or that the item is gone.
Put them in alphabetical order
Putting items into alphabetical order is one of the easiest ways to find something later on down the line. While it may seem time-consuming at first, once it is done, it is done and you should not have to do it again. When you add new titles, simply slip them into the spot they belong.
Use paint sticks
For what you ask? Thi simple home organization tip is an easy and cheap way to mark the spot you took materials from. This way when you are done using them, a flat paint stir stick will be holding the spot for you to return it to. How simple is that? If you want something a little smaller and less obvious, use a colorful paint sample strip.
Find creative storage solutions
Old crates, file cabinets, and baskets make great storage for DVD's and music. They are functional and can be used as furniture and decorative pieces, and at the same time can stash away all of your materials. Visit your local thrift shops to find fun pieces for yourself.
Purge a little
While you are organizing, it never hurts to purge what you are no longer using and enjoying. If you have not watched or listened to a certain item in years, it is time to donate it to someone who will. This is a great way to pass the experience on to the next person while creating some calm for yourself.  Plus, if you take to a local pawn shop, you may be able to sell for a few dollars!
Make genre bins
Use shoes boxes or small boxes to make genre bins. Organize the materials by genre into each bin (i.e. comedy, children's, action, romance, rock, pop, rap) so that when you are looking for a certain feel you can find it easily. Label each box clearly and store them in out of sight places like under a couch or in a closet.
Don't let your movies and music take over your life. Instead, give these home organization tips a try and see how easy it can be to still enjoy these items while staying organized and clutter-free.
Looking for more home organizing tips?
Organizing with a Home Management Binder