Your closet is one area in your home that can quickly get out of hand and be easily ignored.  After all, guests to your home never see your closet so it can quickly become a crazy disaster of laundry and clutter.  In my experience, once a space gets to the disaster level there is less and less motivation to start getting it back in order because it's simply too overwhelming.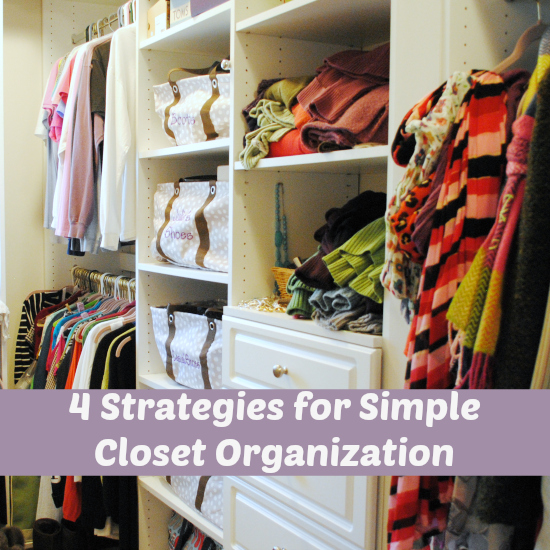 4 Strategies for Simple Closet Organization
1.) Purge What You Can
If you haven't worn it in a year, chances are that you are not going to wear it again.  It's time to be honest with ourselves and get rid of items that we truly are never going to wear again. Another tip is to look at the item and if you wouldn't buy it in a store right now chances are you aren't going to wear it now or in the future.
2.) Organize Your Closet by Season
Most of us are not fortunate enough to have the closet of our dreams.  We rarely have enough room for everything that we think we need.  Not everything needs to hang in your closet all of the time.  Perhaps you have a few dressers in your bedroom that can easily store smaller items or clothing that can be folded.
If you have a small space, keeping one season at a time in your closet might be helpful to keep things organized.  The other season's clothing might be stored in other closets, organizing bins under your bed, or in your attic.  If you have enough space in your closet for all of your clothing, you can keep the current season toward the front where it is easily accessible.
3.) Shoes, shoes, and more shoes!! 
I'm not sure about you, but the organization of my shoes is something that I constantly must stay on top of.  It's important to purge the ones that are worn out, donate the ones that you truly don't wear (like the ones that were a good deal and are still in the box), and keep the remaining organized so they are easy to find when you need them in a hurry.
4.) Laundry Sorting and Dry Cleaning
Save yourself time by sorting your laundry when you take it off each evening.  You can teach your children to do this as well.  You don't need a fancy laundry basket to do this.  You can add printable tags to any basket.  The tags can include Dark, Light, Gentle, Dry Cleaning, etc.  It can easily be tailored to the needs of your family.  This makes completing a load of laundry simple.  On a busy weeknight, you can grab one of the baskets that has already been sorted and head to your washing machine.
Whenever organization feels like an overwhelming task, start with something small.  Choose one of my strategies above to start making changes in your closet.  Feeling accomplished by making small changes can give you the momentum and confidence that you need to keep moving forward.
More Organizing Tips from Julie
Follow Kristi @ Moms Confession's board Organizing Tips for Home on Pinterest.